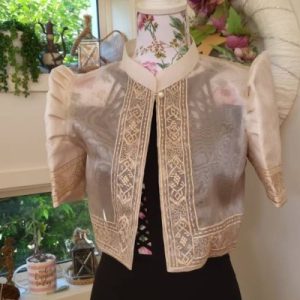 Kimona Filipino is more than just a piece of garment; it has countless tales to tell. More so, it speaks of Filipino heritage that resounds in every inch of its fiber. Therefore, its meticulous cut, design, and embroidery unravels the character of a modest and simple Filipina whose beauty and elegance captivates the heart of many.
Worn every special occasion and formal events, the kimono represents the Filipino traditional dress. It ramps the simplicity, modesty, grace, and elegance of Filipino women as they confidently flaunt the beauty and creativity of its fashion. But what contributes to its elegance? Here are the top 10 reasons why you should have a piece of it in your closet
10 Reasons to Wear Kimona Filipino
1. Classic Design
       The kimono highlights a simple yet classic design with loose, flowing sleeves and a floor-length skirt. Its majestic style can flatter different body types radiating the picture of femininity and sophistication. Once you wear it, you will feel the Filipina vibe carefully woven in its fabric.
2. Artistic Embroidery
       The intricate artistic embroidery of the Filipino kimono reflects the skillful craftsmanship and artistry of Filipino handworkers. Stitched with careful embroidery, it shows the exquisite patterns and motifs of nature, local art and traditions which makes its garment filled with class and sophistication. Thus, it reflects the culture and tradition of Filipinos as revealed by the artistic style of the garment.
3. Piña Fabrics
      Piña, a delicate and luxurious fiber derived from pineapple leaves, is often used for the kimona's fabric. The fine texture of piña allows for intricate embroidery without compromising the fabric's integrity. These fabrics lend a luxurious feel to the garment and enhance its overall elegance.
4. Subtle Color Palette
    Aside from its refined style, traditional kimona is oftentimes in soft color palette which suggests gentle hues such as pastel shades of pink, blue, cream, and lavender. These colors speak the shade of calmness, simplicity and modesty which highlight its classy style.
5. Modesty and Refinement
    The kimona is designed to be modest, covering the arms and legs, while still exuding a refined and dignified aura. Hence, it projects the purity and grace of a Filipina as it ramps to the crowd with eyes examining the fashionable clothing made by ingenious artisans.
6. Historical Roots
    History unfolds in the fabric, design, and color of the traditional kimona. It is the celebration of Filipino custom and tradition for it embodies the extraordinary craftmanship and incredible work ethics of its artisans. Flaunting its classy but modest style not only captures the eyes of the spectators, but it also captures the heart of those people who can see and feel the grandeur and greatness of Philippine history and culture.  
7. Flexibility
    Even if the kimono is traditionally worn during special occasions, modern style and interpretations of the kimona allow for more versatile way of wearing it. It can be paired with modern bottoms, making it suitable for both formal and casual settings. This mirrors also the versatility and adaptability of Filipinas who can always be productive anytime, anywhere.
8. Filipino Identity
     Ramping the kimona in the midst of glitzy and glamorous dresses is tantamount to raising the Philippine flag with pride and confidence. The kimona carries a sense of pride for Filipino women, symbolizing their unique identity and cultural roots. Hence, it is a testament to the beauty and elegance of the Philippines' cultural heritage.
9. Recognition of Artistry
     Handed down through generations, the making of a kimona highlights the ingenious skills and craftsmanship of Filipino artisans. The careful weaving of its fabric, the intricate design and embroidery are all crafted by the hardworking, passionate and prolific Filipino designers.  Truly, the attention to detail and the use of traditional techniques elevates the garment's elegance.
10. Reflection of Culture and Tradition
      By simply wearing the kimono with immense pride and honor, every Filipina connects with their roots and ancestors. It is a clear manifestation of a Filipino blood that gives life amid peculiarities and differences. Nonetheless, it is a celebration of culture and tradition that have been passed down over time.
Indeed, Filipino kimona translates the language of nationalistic pride fancied with intricate embroidery and style. It is not just a piece of clothing meant to impress the scrupulous eyes of people, but it is a work of art that speaks of its identity, history and roots. A Filipina who is proud of her roots can wear the kimona with dazzling effects of wit and charm. Truly, this reflects the real essence of the Filipino fashion icon.
Overall, the elegance of the Filipino kimona lies not only in its design and aesthetics but also in the profound cultural meaning and significance it carries. As a symbol of heritage and grace, the kimona continues to be cherished and revered by Filipinos, embodying the timeless elegance of Filipino culture. If we have Filipino Kimona for girls, we have also the counterpart for the boys which we called Filipino Barong. As we continue to wage the war of identity and patriotism, let us always remember how other Filipinos have contributed to ignite the majestic Filipino pride. While you may say that Filipino kimona is just a typical piece of clothing, try to have a hundred and one thoughts. Because a Filipino kimona is always a Filipino fashion icon that proudly ramps its culture and tradition.